Chem-Wise Ant Control
Serving the entire Chicagoland area including Naperville, Aurora, Joliet, Schaumburg, and Rockford
Chem-Wise Ant Control
Serving the entire Chicagoland area including Naperville, Aurora, Joliet, Schaumburg, and Rockford
(888) 512-8904
COVID-19 - We're Open
We Are An Essential Business. Click Here To Learn How We Are Keeping Our Customers & Employees Safe.
Click
to view local phone numbers
(630) 868-9805
(630) 868-9805
---
Western Suburbs Area
Addison

Bensenville

Bristol

Clarendon Hills

Glendale Heights

Hanover Park

Hinsdale

Itasca

Kaneville

La Fox

Lilly Lake

Medinah

Montgomery

Oak Brook

Oswego

Plano

Prestbury

Villa Park

Warrenville

Wayne

Westmont

Willowbrook
(708) 390-3041
(708) 390-3041
---
Southern Suburbs Area
Alsip

Bellwood

Berkeley

Broadview

Brookfield

Burbank

Calumet City

Calumet Park

Chicago Heights

Chicago Ridge

Countryside

Crestwood

Crete

Dixmoor

Dolton

Evergreen Park

Forest Park

Forest View

Glenwood

Harvey

Hickory Hills

Hillside

Hodgkins

Homer Glen

Hometown

Homewood

Indian Head Park

Justice

La Grange Park

Lynwood

Lyons

Markham

Matteson

Maywood

McCook

Melrose Park

Merrionette Park

Midlothian

Monee

Norridge

North Riverside

Oak Forest

Oak Lawn

Olympia Fields

Palos Heights

Palos Hills

Park Forest

Peotone

Posen

River Grove

Riverdale

Robbins

Sauk Village

South Holland

Stickney

Summit

Tinley Park

University Park

Westchester

Willow Springs

Worth
(847) 999-4598
(847) 999-4598
---
Northern Suburbs Area
Algonquin

Bannockburn

Barrington

Beach Park

Burlington

Carpentersville

Cary

Deer Park

Dundee

East Dundee

Evanston

Fox River Grove

Franklin Park

Glencoe

Glenview

Hawthorn Woods

Ingleside

Inverness

Island Lake

Kenilworth

Kildeer

Lake Bluff

Lake Forest

Lake Villa

Libertyville

Lincolnshire

Lincolnwood

Lindenhurst

Mt Prospect

Mundelein

North Barrington

Northfield

Prairie View

Prospect Heights

River Woods

Rosemont

Round Lake Beach

Skokie

Sleepy Hollow

South Barrington

Tower Lakes

Vernon Hills

Volo

Wadsworth

Waukegan

West Dundee

Wheeling

Winnetka
You Should Call Chem-Wise If:
You see stray ants walking around your home

There is a trail of ants leading to exposed food

Your pet's food bowl has ants in it

You notice ant nests outside, close to your house

Wood shavings or flying ants could indicate carpenter ants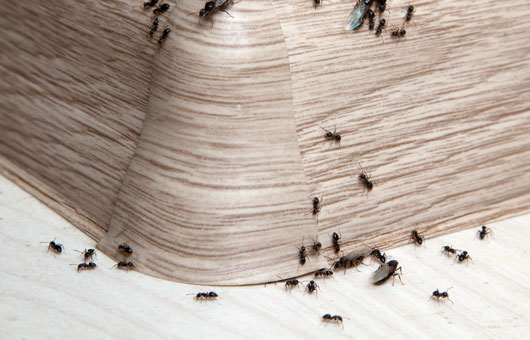 Why We Treat
Ants are not only a nuisance, but can cause structural damage and bring health problems. Ants can carry and spread various diseases, including salmonella, smallpox, and dysentery. Ant extermination should be done by professionals, as most of the time a simple DIY treatment will only solve the problem temporarily, or even make it worse. Ants leave pheromone trails that could lead others right back into your house or business. Ant treatment will also depend on the kind of ant you have. Experts like those at Chem-Wise know how to identify what kind of ants have invaded, where they are entering, and how to find their colonies to eliminate them at the source. Getting professional ant control today will give you peace of mind.
Why Choose Chem-Wise Pest Control?

MORE CONVENIENT
Locally Owned & Operated Since 1993
Multiple Locations in Chicagoland
One-Hour Appointment Windows
Cash, Check & All Major Credit Cards Accepted
Residential & Commercial Services
Free Phone Quotes

MORE TRUSTED
A+ BBB Rated
Licensed & Insured In Illinois
We Use Environmentally Friendly Materials
Application Methods are Safe for Children and Pets
QualityPro Certified
Treatment Guarantees
Why Choose Chem-Wise To Treat Ants?
Professional tech identifies species & source of ants

Bait materials placed for ants to bring to queen & colony

Least harmful materials that still are effective

Application methods safe for kids or pets

Recommendations to prevent future infestation

Prices for ant extermination start at $145. Call for additional pricing details.