Chem-Wise Bee, Wasp & Hornet Removal
Serving the entire Chicagoland area including Naperville, Aurora, Joliet, Schaumburg, and Rockford
Chem-Wise Bee, Wasp & Hornet Removal
Serving the entire Chicagoland area including Naperville, Aurora, Joliet, Schaumburg, and Rockford
(888) 512-8904
COVID-19 - We're Open
We Are An Essential Business. Click Here To Learn How We Are Keeping Our Customers & Employees Safe.
Our Service Area
Click Here to Expand
(630) 868-9805
(630) 868-9805
---
Western Suburbs Area
Click to expand
Addison

Aurora

Bartlett

Batavia

Bensenville

Big Rock

Bloomingdale

Bolingbrook

Bristol

Burr Ridge

Campton Hills

Carol Stream

Clarendon Hills

Darien

Downers Grove

Elburn

Elmhurst

Geneva

Glen Ellyn

Glendale Heights

Hanover Park

Hinsdale

Itasca

Kaneville

La Fox

Lemont

Lilly Lake

Lisle

Lombard

Medinah

Montgomery

Naperville

North Aurora

Oak Brook

Oswego

Plano

Prestbury

Roselle

St. Charles

Streamwood

Sugar Grove

Villa Park

Warrenville

Wayne

West Chicago

Westmont

Wheaton

Willowbrook

Winfield

Wood Dale

Woodridge

Yorkville
(708) 390-3041
(708) 390-3041
---
Southern Suburbs Area
Click to expand
Alsip

Bellwood

Berkeley

Berwyn

Blue Island

Bridgeview

Broadview

Brookfield

Burbank

Calumet City

Calumet Park

Chicago Heights

Chicago Ridge

Cicero

Countryside

Crestwood

Crete

Dixmoor

Dolton

Elmwood Park

Evergreen Park

Flossmoor

Forest Park

Forest View

Glenwood

Harvey

Harwood Heights

Hickory Hills

Hillside

Hodgkins

Homer Glen

Hometown

Homewood

Indian Head Park

Justice

La Grange

La Grange Park

Lynwood

Lyons

Markham

Matteson

Maywood

McCook

Melrose Park

Merrionette Park

Midlothian

Mokena

Monee

Norridge

North Riverside

Oak Forest

Oak Lawn

Oak Park

Olympia Fields

Orland Hills

Orland Park

Palos Heights

Palos Hills

Palos Park

Park Forest

Peotone

Posen

River Forest

River Grove

Riverdale

Riverside

Robbins

Sauk Village

South Holland

Stickney

Summit

Tinley Park

University Park

Westchester

Western Springs

Willow Springs

Worth
(847) 999-4598
(847) 999-4598
---
Northern Suburbs Area
Click to expand
Algonquin

Arlington Heights

Bannockburn

Barrington

Beach Park

Buffalo Grove

Burlington

Carpentersville

Cary

Deer Park

Deerfield

Des Plaines

Dundee

East Dundee

Elgin

Elk Grove Village

Evanston

Fox River Grove

Franklin Park

Gilberts

Glencoe

Glenview

Gurnee

Hawthorn Woods

Highland Park

Hoffman Estates

Huntley

Ingleside

Inverness

Island Lake

Kenilworth

Kildeer

Lake Barrington

Lake Bluff

Lake Forest

Lake In The Hills

Lake Villa

Lake Zurich

Libertyville

Lincolnshire

Lincolnwood

Lindenhurst

Long Grove

Morton Grove

Mt Prospect

Mundelein

Niles

North Barrington

Northbrook

Northfield

Palatine

Park Ridge

Prairie View

Prospect Heights

River Woods

Rolling Meadows

Rosemont

Round Lake Beach

Schaumburg

Skokie

Sleepy Hollow

South Barrington

South Elgin

Tower Lakes

Vernon Hills

Volo

Wadsworth

Wauconda

Waukegan

West Dundee

Wheeling

Wilmette

Winnetka
Signs of Bees, Wasps, & Hornets
Wasps
There are a few distinctive features of a wasp that can help you identify if you have a potential bee or wasp nest. A wasp is long, thin, and not fuzzy compared to the bee. The wasp is far more aggressive because it is easily provoked. It can sting multiple times and does not pollinate any flowers or plants. They are predators and can be found at barbeques or picnics. They like to live in the ground and inside homes by building their paper-like nests in eaves or attics. Examples of wasps include yellow-jackets and paper wasps. As they are more aggressive, we recommend giving us a call to investigate any possible nests in your home. To prevent wasp nests before they are built, Chem-Wise offers a wasp proofing treatment plan.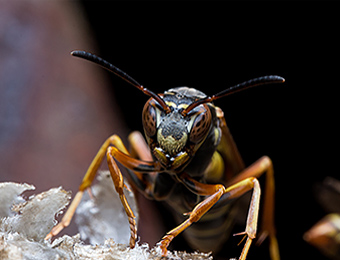 Yellow Jackets
Yellow jackets are a type of wasp recognized by their yellow and black striped pattern. They are territorial and aggressive when provoked, known to sting a victim multiple times. The sting of a yellow jacket can be harmful to people, especially someone with bee sting allergies. Yellow jackets frequently nest in eaves and attics, but are also attracted to sweet smelling foods and perfumes. They are most active during the summer and early fall. Because of the dangers posed by stinging yellow jackets, their elimination is best handled by a pest control professional such as Chem-Wise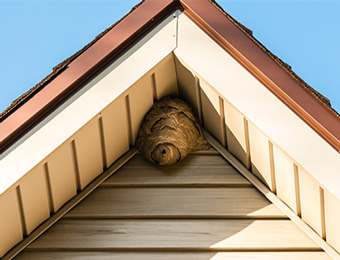 Honeybees
Honeybees are the gentlest type of stinging insects. They are very important to our environment because of their ability to pollinate flowers, fruits, and vegetables. Also, they produce products like honey and beeswax which are used for many purposes such as medicine and cooking. They will die after they sting you once. Due to this, they are protected and need to be relocated by a local beekeeper for successful removal.
Bald Faced Hornets
Hornets are the most dangerous type of stinging insect and do not like to be disturbed. Unlike bees and wasps, they can release a hormone that alerts other hornets of danger. Hornets look a lot like a wasp but have a thicker waist, are generally browner with yellow markings, and are slightly larger than yellow jackets. They will feed on live insects which can be beneficial to your garden. Hornets will not produce any honey and are not pollinators. Due to their aggressive nature, we highly recommend calling a professional from Chem-Wise to look at any potential hornets nest. If you have an allergy and are stung by a hornet, you run the risk of asphyxiation and possible death.
Why We Treat
Any type of stinging insect can become a problem to a homeowner. We want our customers to be able to enjoy the beautiful outdoors without any uneasiness of being stung. Many bees, wasps, and hornets can sting multiple times and attack in large numbers. These stinging insects pose the greatest risk to adults and children who are severely allergic to them. This is the main reason we strongly suggest you give us a call at the first sign of a possible nest. Our technicians are trained to spot behaviors and characteristics of each type of bee, wasp, or hornet known to the Chicagoland area.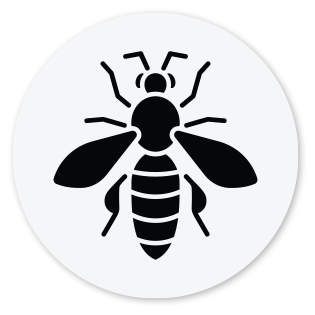 Why Choose Chem-Wise Pest Control?

MORE CONVENIENT
Locally Owned & Operated Since 1993
Multiple Locations in Chicagoland
One-Hour Appointment Windows
Cash, Check & All Major Credit Cards Accepted
Residential & Commercial Services
Free Phone Quotes

MORE TRUSTED
A+ BBB Rated
Licensed & Insured In Illinois
We Use Environmentally Friendly Materials
Application Methods are Safe for Children and Pets
QualityPro Certified
Treatment Guarantees
Why Choose Chem-Wise for Bee, Wasp and Hornet Removal?
Proofing for all stinging insects

Proofing/nest removal for homes up to 3 stories high

Preventative services take place in spring season

Treatment placed behind shutters and under eaves & decks

Will refer to local beekeeper for honeybees

Prices for bees, wasp and hornet nest removal start at $95. Call for additional pricing details.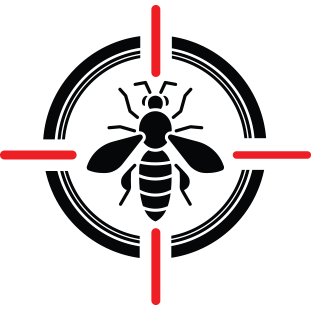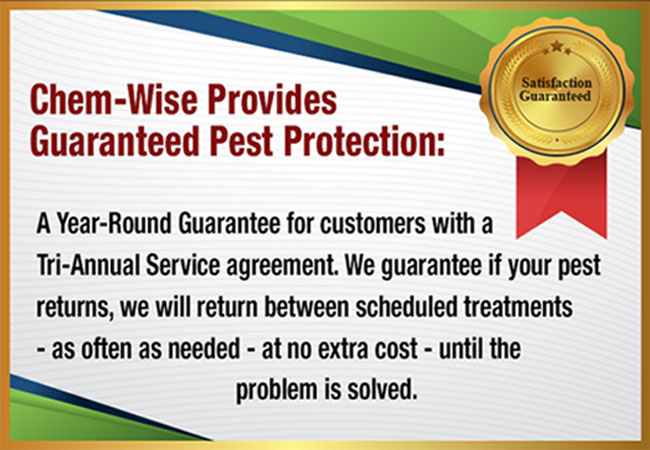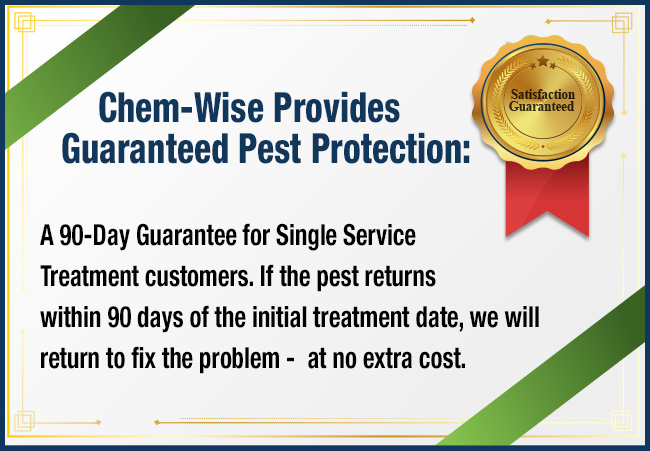 Licenses
Illinois Department Of Health
051-015881
Illinois Department Of Health
051-020105
Illinois Department Of Health
051-025492