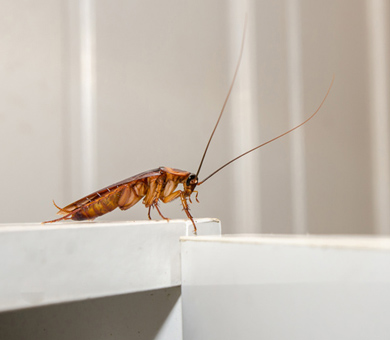 Chem-Wise Cockroach Control
Serving The Entire Chicagoland area including Naperville, Aurora, Joliet, Schaumburg, and Rockford
Chem-Wise Cockroach Control
Serving The Entire Chicagoland area including Naperville, Aurora, Joliet, Schaumburg, and Rockford
(888) 512-8904
COVID-19 - We're Open
We Are An Essential Business. Click Here To Learn How We Are Keeping Our Customers & Employees Safe.
Our Service Area
Click Here to Expand
(630) 868-9805
(630) 868-9805
---
Western Suburbs Area
Click to expand
Addison

Aurora

Bartlett

Batavia

Bensenville

Big Rock

Bloomingdale

Bolingbrook

Bristol

Burr Ridge

Campton Hills

Carol Stream

Clarendon Hills

Darien

Downers Grove

Elburn

Elmhurst

Geneva

Glen Ellyn

Glendale Heights

Hanover Park

Hinsdale

Itasca

Kaneville

La Fox

Lemont

Lilly Lake

Lisle

Lombard

Medinah

Montgomery

Naperville

North Aurora

Oak Brook

Oswego

Plano

Prestbury

Roselle

St. Charles

Streamwood

Sugar Grove

Villa Park

Warrenville

Wayne

West Chicago

Westmont

Wheaton

Willowbrook

Winfield

Wood Dale

Woodridge

Yorkville
(708) 390-3041
(708) 390-3041
---
Southern Suburbs Area
Click to expand
Alsip

Bellwood

Berkeley

Berwyn

Blue Island

Bridgeview

Broadview

Brookfield

Burbank

Calumet City

Calumet Park

Chicago Heights

Chicago Ridge

Cicero

Countryside

Crestwood

Crete

Dixmoor

Dolton

Elmwood Park

Evergreen Park

Flossmoor

Forest Park

Forest View

Glenwood

Harvey

Harwood Heights

Hickory Hills

Hillside

Hodgkins

Homer Glen

Hometown

Homewood

Indian Head Park

Justice

La Grange

La Grange Park

Lynwood

Lyons

Markham

Matteson

Maywood

McCook

Melrose Park

Merrionette Park

Midlothian

Mokena

Monee

Norridge

North Riverside

Oak Forest

Oak Lawn

Oak Park

Olympia Fields

Orland Hills

Orland Park

Palos Heights

Palos Hills

Palos Park

Park Forest

Peotone

Posen

River Forest

River Grove

Riverdale

Riverside

Robbins

Sauk Village

South Holland

Stickney

Summit

Tinley Park

University Park

Westchester

Western Springs

Willow Springs

Worth
(847) 999-4598
(847) 999-4598
---
Northern Suburbs Area
Click to expand
Algonquin

Arlington Heights

Bannockburn

Barrington

Beach Park

Buffalo Grove

Burlington

Carpentersville

Cary

Deer Park

Deerfield

Des Plaines

Dundee

East Dundee

Elgin

Elk Grove Village

Evanston

Fox River Grove

Franklin Park

Gilberts

Glencoe

Glenview

Gurnee

Hawthorn Woods

Highland Park

Hoffman Estates

Huntley

Ingleside

Inverness

Island Lake

Kenilworth

Kildeer

Lake Barrington

Lake Bluff

Lake Forest

Lake In The Hills

Lake Villa

Lake Zurich

Libertyville

Lincolnshire

Lincolnwood

Lindenhurst

Long Grove

Morton Grove

Mt Prospect

Mundelein

Niles

North Barrington

Northbrook

Northfield

Palatine

Park Ridge

Prairie View

Prospect Heights

River Woods

Rolling Meadows

Rosemont

Round Lake Beach

Schaumburg

Skokie

Sleepy Hollow

South Barrington

South Elgin

Tower Lakes

Vernon Hills

Volo

Wadsworth

Wauconda

Waukegan

West Dundee

Wheeling

Wilmette

Winnetka
Cockroaches are drawn to all types of food and moisture, and will eat paper, packaging, plastics, and fabrics. These pests are also attracted to dampness and warmth. Typical places to check for cockroach infestations are bathrooms, kitchens, laundry rooms, basements, and drains.
Confirmation Of A Cockroach Problem
There are several signs that cockroaches may be present in your home or business. These include: unpleasant odors; egg cases or discarded nymph skins found in secluded areas; small marks found on horizontal surfaces; droppings that look like coffee grounds or dark smears; and live cockroach activity at night.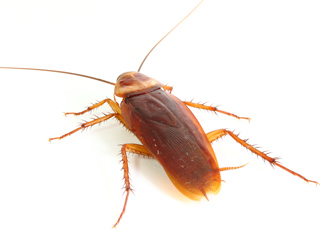 American Cockroaches
Larger cockroach, up to two inches long. Reddish brown, yellowish figure 8 pattern on its head. Found in basements, sewers, drains, and pipes.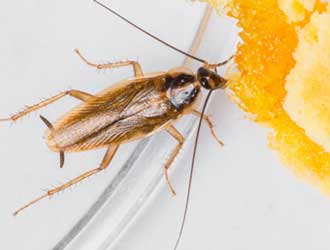 German Cockroaches
Most common cockroach species in most homes & businesses. Coloring varies from tan to light brown. This species has two dark parallel stripes on their backs.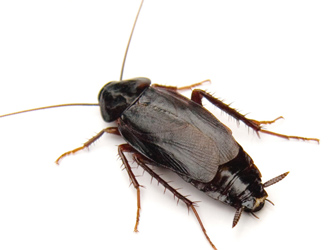 Oriental Cockroaches
Very large, dark, and shiny. Lives in sewers and are referred to as "water bugs". Males are 1" long with large wings; Females are about 1 ¼ inch long
Why We Treat Cockroaches
Not only are cockroaches disgusting, they are very unsanitary. Cockroaches also pose plenty of health and safety risks to humans. Cockroaches regurgitate and defecate on their food, which can spread bacteria and parasites that may be living inside them.
A common bacteria called Pseudomonas aeruginosa is found in cockroaches, and can be transmitted to humans. Cockroaches can spread Salmonella bacteria which can cause diseases ranging from food poisoning to typhoid.
If you are asthmatic and have allergies, they can worsen by the presence of cockroaches. Cockroaches produce a protein which can prompt allergic reactions in many people.
Why Choose Chem-Wise Pest Control?

MORE CONVENIENT
Locally Owned & Operated Since 1993
Multiple Locations in Chicagoland
One-Hour Appointment Windows
Cash, Check & All Major Credit Cards Accepted
Residential & Commercial Services
Free Phone Quotes

MORE TRUSTED
A+ BBB Rated
Licensed & Insured In Illinois
We Use Environmentally Friendly Materials
Application Methods are Safe for Children and Pets
QualityPro Certified
Treatment Guarantees
Why Choose Chem-Wise For Cockroach Control?
Cockroaches are an adaptable pest that can get used to many living situations. These pests are best controlled when a combination of techniques are used. Cleanliness is important for prevention and to fix the problem.
Professional treatment materials are used to eliminate infestations, especially for German cockroaches, which are highly reproductive. We will treat the areas of the cockroaches preferred harborage locations. Most treatment materials are in liquid form or aerosol sprays, and others are formulated as edible dusts or baits.
Chem-Wise strives to remove as many cockroaches as possible to reduce the ones that breed. Our cockroach service includes a follow-up after two weeks. However, most roach problems will take multiple treatments to completely get rid of them, and we offer a quarterly service plan.
Prices for Cockroach Control starts at $195. Call for additional pricing details.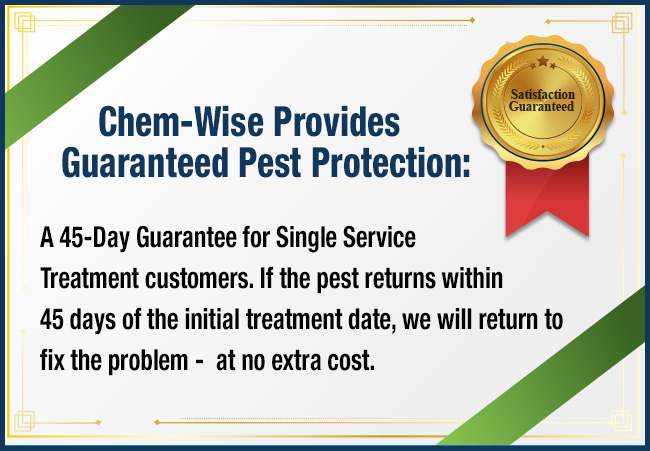 Licenses
Illinois Department Of Health
051-015881
Illinois Department Of Health
051-020105
Illinois Department Of Health
051-025492